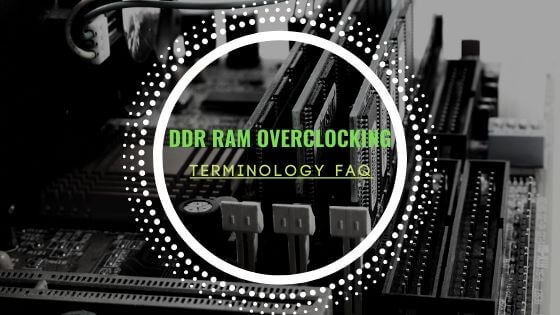 Hits: 43346
Rating:

( 11 Ratings )
Article Index
Page 2 of 2
BIOS Settings.
What are Primary Timings?
The primary timings of a RAM kit are always listed on the sales page and packaging. These numbers indicate the performance ability of a kit to transfer data, delay, pre-charge. The lower the number on the Primary Timings the faster your RAM kit can transfer data. Changing Primary Timings will impact latency and bandwidth. These are easily accessible in various tweaking software as well as in the motherboard BIOS.
What are Secondary Timings?
Secondary timings are rarely found on marketing material. As with Primary Timings, they indicate the performance ability of the DDR kit to transfer data, delay, pre-charge. Lower Secondary Timings allow your RAM kit to transfer data faster. Changing Secondary Timings will impact latency and bandwidth. And they can be found in the BIOS of most motherboards.
What are Tertiary Timings?
Tertiary Timings are never found and are different per motherboard, CPU and RAM kit of the same manufacture and kit. They require special training from the motherboard, and this is the main reason your PC will reboot a couple of times when you install a new RAM kit. Lower Tertiary Timings impact bandwidth only and only high-end motherboards will allow you to change these timings.
What is Command Rate(CR)?
Command Rate is not a timing but is listed in most marketing material and found under Primary Timings. It is accessible in most tweaking software and the BIOS with the Primary Timings. The number indicated the clock cycle needed to send and receive data from the CPU. CR is also known as T or N in the motherboard BIOS. And the number is clock cycle required to CR1 = 1 clock cycle. Changing CR impacts latency and CR1 is preferred over CR2. In contrast, CR1 is harder to overclock but has a 5% performance advantage over CR2. CR3 is commonly seen on HEDT with Quad-Channel.
What is RTL and IO-L?
These are latency settings and not timings and can be found under Tertiary Timings or a separate section in the BIOS of high-end motherboards. Adjusting RTL and IO-L should be done in sync. If not, it will increase latency and impede performance or even cause instability.
What is DRAM Voltage?
Is the voltage supply to your RAM, aka Memory sticks, increasing the DRAM voltage will allow your RAM to run at a higher frequency and tighter timings will increase heat output.
What is VCCIO Voltage?
VCCIO voltage needs to be adjusted when increasing the Mhz of the RAM kit. Overshooting VCCIO can lead to instability; thus, it is wise to test the correct voltage since a overclock could be stable, but to high VCCIO voltage is making it unstable. A rule of thumb is that you will need 1.25v or more on overclock that exceed 4000mhz.
What is VCCSA Voltage?
VCCSA voltage needs to be adjusted when using tighter timings at relative low memory frequency such as 14-14-14-32 @ 3200mhz. When using higher frequencies VCCSA needs to be modified when attempting to lower the timings, for instance, 17-17-17-34-C2 @ 4000mhz needs more VCCSA then 19-19-19-38-CR2 @ 4000Mhz.
What is SoC Voltage?
SoC voltage needs to be adjusted with FCLK(Infinity Fabric),MCLK(RAM frequency), and RAM timings. So regardless of changing either of the settings mentioned above, SoC voltage will need to be adjusted.
What is Gear Down Mode?
Enables the memory to run half the average speed generated internally in MHz. Gear Down Mode can be seen as Command Rate 1.5. Enabling Gear Down Mode will prevent you from running Command Rated 2(T2/N2/CR2) and will only allow even tCL . 
Closing thoughts.
These common questions barely scratch the surface of DDR RAM overclocking but will help you get started in the future more information will be added, covering more in-depth topics.
- Enjoy overclocking, Paul "HisEvilness" Ripmeester
---