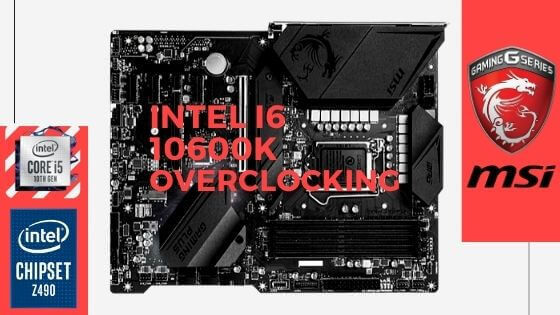 Hits: 118873
Rating:

( 18 Ratings )
Page 4 of 7
BIOS Settings.
To get started with overclocking your i5 10600k first some settings needs to be adjusted in the BIOS to ensure you maintain a stable overclock. As well as setting some of the power delivery options for the CPU and VRM settings. The MSI Click BIOS has several LLC options, and they are displayed in a graphic in the corresponding menu. Here it was noticed that the LLC displayed does not entirely hold true and when trying to maintain a stable voltage to the CPU LLC4 was the best option. LLC4, in this case, has only a slight overshoot when using AVX and none AVX loads.
Advanced CPU Configuration:
Intel C-State: Disabled
Enhanced Turbo: Disabled
Intel SpeedShift Technology: Disabled.
Under the same menu, some power delivery options must be adjusted to ensure power delivery constraints and time-limited is removed. These are outlined in green in the image below.
Long Duration Power Limit(W): Set to 4096
Long Duration Maintained(s): Set to 128
Short Duration Power Limit(W): Set to 4096
CPU Current Limit(A): Set to 256
Head back to the main overclocking menu by click OC and scroll down to the section where you can enter various voltages and select the DigitALL Power. Here you can adjust multiple VRM settings for this particular motherboard there were only two options.
CPU Loadline Calibration Control: Select Mode 4 this can be adjusted later
CPU Over Current Protection: Set to enhanced
CPU Switching Frequency: Set to 500
---