Hits: 70729
Rating:

( 17 Ratings )
Page 6 of 7
Ryzen 1600X V.D.D.C.R. Core Volts.
As with the Ryzen 5, 1600 the none X the same volt limits apply, going beyond those will result in your CPU degrading to the point it will not maintain the overclock. Also to note is that the X version has a higher set temperature not to be alarmed by higher numbers, this is why better cooling is essential. When stress testing the overlock, you want to use a tool like HWiNFO64 to monitor temperatures, clock speeds, and voltages.
AMD Recommended Voltage: 1.350 to 1.375 volts.
Community Recommended Voltage: 1.400 to 1,450 volts.
Absolute max and not recommended: 1.500 to 1550 volts.
The two settings you will have to adjust here are CPU Core Ratio and VDDCR CPU Voltage. The first is a straight-up number the latter is an offset number. On the X370 you either use Offset Mode or Manual Mode, Offset Mode offers better granular tweaking over manual Mode so we will be using Offset Mod. Now it comes down setting the CPU Core Ratio, start at 38.00 and then set the Offset mod to 0.0375. This should work on any system. If this does not post, you have a terrible CPU that will be a nightmare to overclock, and getting higher frequencies will need exponential more volts. Run a quick Cinebench to see if your stable if so reboot and head back into the BIOS, now set the CPU Core Ratio to 38.50 and keep the Offset mode as is. Repeat the process add 0.20 until your Cinebench test fails. Now you can add more volts in the Offset mode, an Offset of 0.07500 will give 1.425 V. But do not go straight to an Offset of 0.07500, up the voltage 0.00625 then see if your system will post and then increase the CPU Core Ratio again until it fails. With a bit of luck, you should be stable at 40.00, a 4.0Ghz on all cores the less voltage it takes to get to 4.0Ghz the better your CPU is. Fewer volts is less heat and a higher overall overclock see if you can make it to a CPU Core Ratio of 41.00 with 0.07500 Offset or lower.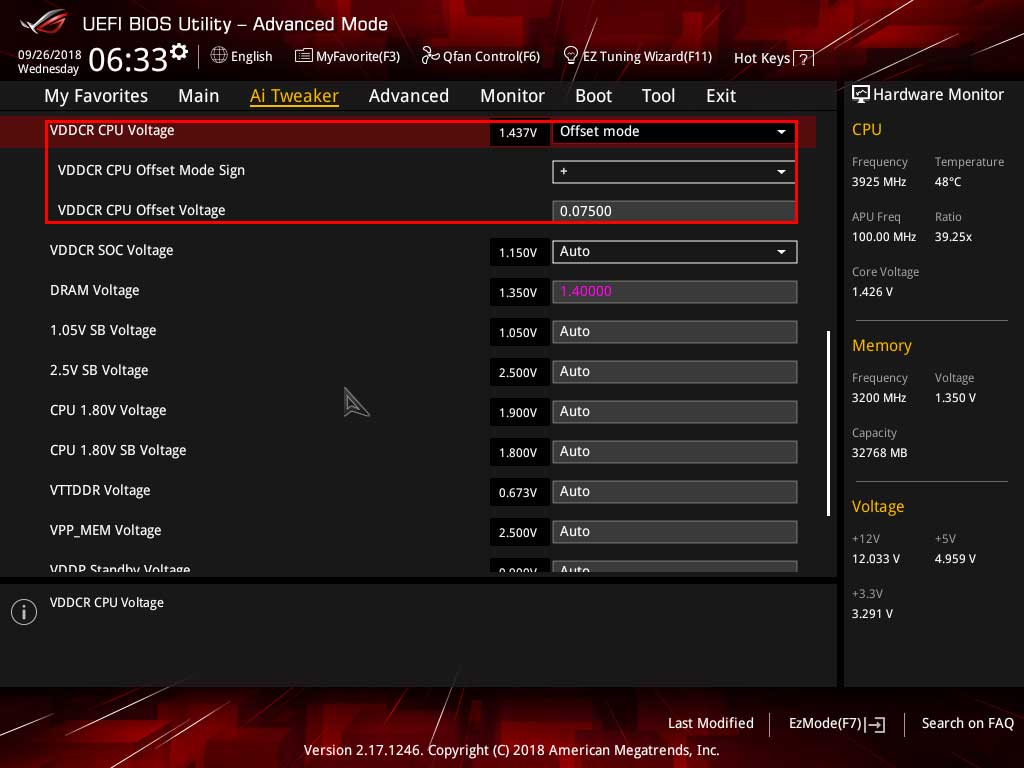 ---