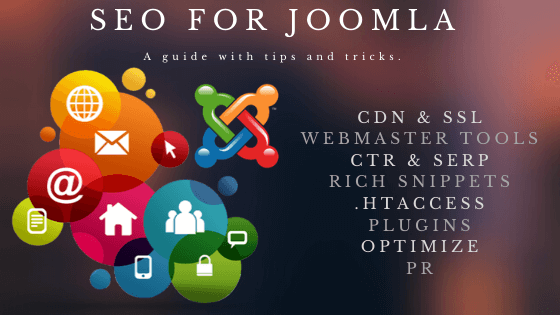 Hits: 50144
Rating:

( 8 Ratings )
Page 1 of 13
SEO tips & tricks for Joomla CMS(2019 Update).
Introduction.
This guide for Joomla is filled with useful tips and tricks for SEO to get the most out of your content using the Joomla CMS. The big difference between Joomla and say WordPress is that you will initially have to put in more work, but in the end, you will be able to rank higher if you follow this guide. While working on my website looking for the right balance and SEO options, the initial task was mind-boggling. Most articles said that for the right SEO, you spend a lot of time for the least amount of gain they are right to some extent. I do enjoy tweaking everything from my PC to mobile phone and hence my website as well. While I did find useful articles that gave me a more significant insight none were just the right article that covers Joomla SEO. This is where this article comes in. I will show you my route to a 99% PageSpeed score and a 98% Yslow score. Remember, SEO can be boring with little short-term gain; the gain is long term and better user experience. While this article covers SEO for Joomla CMS, it can be used as a source for other variants of CMS's and websites. The big difference will be you will need to find some modules/plugins that are explicitly built the CMS you are using.
SEO 2019 Update.
The article has been updated to reflect some changes for 2019 SEO optimisation as well as some Joomla plugins and modules that have been either updated or removed altogether. If you revisit this article, my overall ratings have slightly declined, and I am specialising more into Google since that is the most common search engine. Still, I also try to consider my options for other search engines such as Yahoo and Bing. My site has become more complex as well as it has grown since I wrote this article. However, the basics remain the same for the most part, but I have further tweaked my site, and I changed the sitemap generator to OSMap and made use of the Google Structured Data extension to make use of rich snippets.
Reference my progress here: GTMetrix Report and select the history tab and see my website's performance throughout the years.
---